Forest Lodge Weddings and Firefly Tipis have collaborated to create the ultimate woodland wedding venue.
Imagine your big day in a romantic, al-fresco setting – surrounded by nature with the trees as your backdrop. For couples looking to embrace the great outdoors, our exclusive wedding venue is set in secluded private woodland at Little Lodge Farm in the heart of Thetford forest.
Between us, Forest Lodge Weddings and Firefly Tipis can offer couples the full wedding package to create your dream woodland wedding.
The traditional Nordic Giant Hat Tipis and rustic props coupled with the artistic flair of our in-house florist, will set your wedding apart. Rustic bohemian and classic weddings can all benefit from a magical and mystical forest setting.
Let our team take away the stress of organising your wedding or celebration. With our expert knowledge and contacts within the industry, you can be sure that no stone is left unturned.
Your wedding and your horse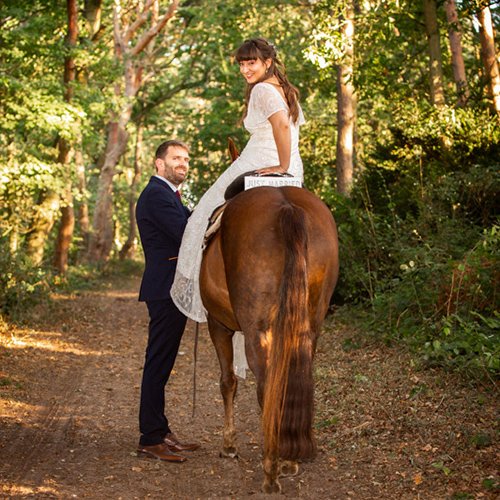 We are pleased to be able to offer a horse friendly venue. We invite couples with horses to bring their beloved animal along to the ceremony and welcome the idea of you making your entrance atop your horse.
If we have sparked your imagination then get in touch!  Call 07771 888002 or 01953 686 604 for more details or to discuss your one of a kind wedding!
While legalities will have to be conducted beforehand, the open-air environment will give couples the opportunity to hold a second ceremony and get the celebrations underway in the great outdoors.
Seating is provided for guests and a wooden gazebo offers a focal point beneath which the bride and groom can exchange vows.
Guests can even enjoy a glass of bubbles or a pint courtesy of the Wonky Donkey Mobile Bar (a converted horsebox licence bar) as they take their seats to await the arrival of the bride. The romantic woodland allows for beautiful photographic opportunities with sunlight breaking through the canopy and nature providing a beautiful backdrop.
Our beautiful venue is set to install a swing for even more opportunities to capture some fantastic wedding photographs, that you will treasure forever.
If the British weather takes a turn for the worse, don't panic! We won't let your day be rained off, there is shelter available for you and your guests.
If you've chosen to include your horse in the celebrations, there are neighbouring stables and paddock to keep them in whilst the rest of the day gets underway.
Celebrate in style while surrounded by the joys of nature. The wedding reception can be conducted in the 10-acre field which is the perfect place to erect your giant tipi! Bell tents and tipis can also be constructed as places for guests to stay in, if desired, making Little Lodge Farm an all-encompassing spot for the couple's special day.
A host of recommended suppliers and suggestions for the finishing touches are available from the venue's affable and attentive team, who will also be on hand to guide and advise you in your wedding planning journey.
Make an enquiry
Contact Us